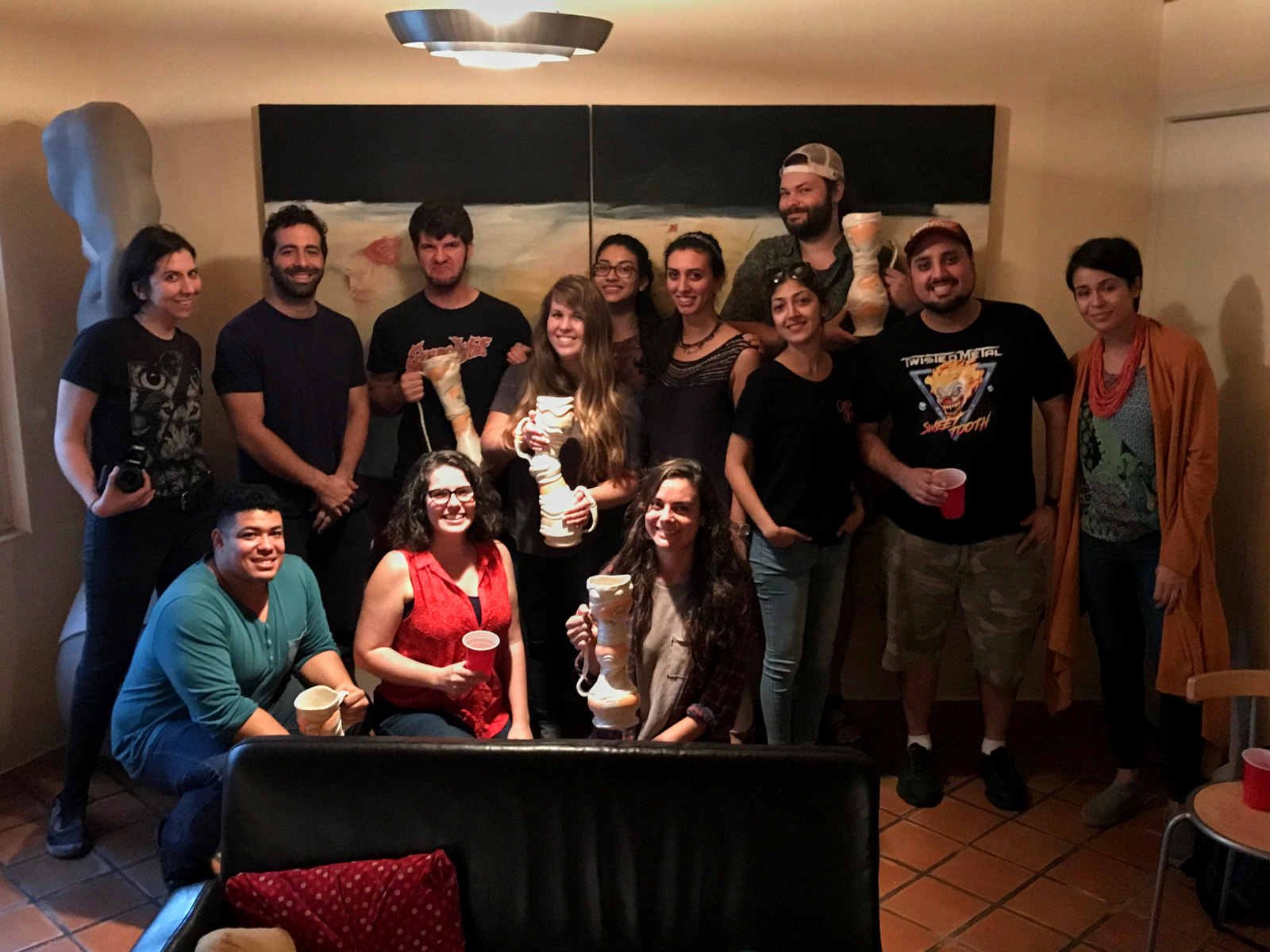 Art + Technology
Graduate Seminar
Learning about each other, what we value, and how that might be embodied in art practice.
---
Years taught: 2006-2018, 2020
Readings, discussions, and/or studio exploration of various art issues.

ART 6933 Art + Technology Graduate Seminar is a revolving topics seminar. Topics in the past have focused on Interface (2006), Relational Aesthetics (2007), Embodiment (2008), Subjectivity (2009), Politics (2010), Critical Utopia (2011), Nothing (2012), Technogenesis (2013), Sociation (2014), Disaster (2015), Whatever (2016), Privilege (2017), Power Failure (2018), and Art and Class (2020).

Since 2006, I have entered this course knowing, somewhat, the interests and practice of the participants; usually with a basic awareness of their theoretical, conceptual and technical grounding, their reading abilities, etc. For the past year I have been on sabbatical, and I expect I will know little about you or your work. Of course, there's Covid-19, too; obviously, we will need to adapt!

This seminar is NOT about me proselytizing my viewpoint to construct artists in my own image. My goal is for us, collectively, to help each other develop the capacity to make art that is meaningful, socially engaged (not limited to the popular stylistic form of the same name) and personally fulfilling. We will spend the first several weeks getting to know each other and our work. If a common concern or need to look deeper at a particular "theme" emerges, we will do so. If not, we will embrace the diversity of our interests and we will provide targeted guidance in the form of critique and readings related to your work, individually.

Credits: 3; Prerequisite: Consent of instructor and graduate program adviser.


 Jack Stenner, Ph.D
 Associate Professor
 Office: FAC 304
 Office Hours: Th 11:30am-12:30pm
 352.213.0997
 stenner@ufl.edu

 Graduate: ART 6933 Area Methods: Rotating Topics
 Class: ONLINE - See UF Canvas for Zoom links/info.
 Time: T 11:45 AM - 2:45 PM
 Website: http://jackstenner.com/teaching/grad-seminar
 Listserv: Class contact will be made through UF Canvas.

Objectives
Over the course of the semester, the goal is to help you develop your art practice in the following ways:
1.
Analysis
Learn to analyze and evaluate works from an informed point-of-view.
2.
Materiality
Recognize the role of tools and their impact on meaning.
3.
Criticality
Engage in meaningful discussion and develop a sense of criticality.
4.
Research
Investigate new techniques and methodologies.
5.
Praxis
Create work that successfully links concepts, expression, and medium.
6.
Growth
Learn to integrate useful suggestions by others.
Requirements for class attendance and make-up exams, assignments, and other work in this course are consistent with university policies that can be found at:
https://catalog.ufl.edu/ugrad/current/regulations/info/attendance.aspx.

Because of Covid-19, classes will be held via Zoom this semester. Links to the Zoom meetings are located on the course Canvas page. It is critical that you attend class in this manner and at these times in order to keep up with the course.

A graduate seminar is a group activity that depends on member participation. You are expected to constructively criticize your peers. Constructive criticism is considered a part of your class participation. You are also expected to show and discuss your work, whether it is complete or not. This too, is part of participation. Over the course of the semester, depending on how it develops, there will likely be assigned readings to which you will be expected to post a written reflection. These will be evaluated for the care with which they approach the subject, but will not be treated as "English" papers.

Detailed, specific info on grades and grading can be found at:
https://catalog.ufl.edu/UGRD/academic-regulations/grades-grading-policies/

Instructor's evaluation of student's interest, motivation, attendance, proficiency and overall development or improvement during the semester will be taken into consideration in determining the final course grade. This syllabus is subject to refinement and development throughout the semester based on feedback and class interaction. Policies and grading criteria are absolute and will not change. Any substantial changes will be discussed with the class prior to implementation.

Grading breakdown:


   Presentation of your work =  25%
   Contribution to critique =  25%
   Writing response(s) to assigned readings =  25%
   Attendance =  25%
   

Students are encouraged to provide feedback on the quality of instruction in this course by completing online evaluations at https://evaluations.ufl.edu. Evaluations are typically open during the last two or three weeks of the semester, but students will be given specific times when they are open. Summary results of these assessments are available to students at https://evaluations.ufl.edu/results/.

Due to Covid-19, the course this semester will be delivered synchronously, online. You will join the class at the prescribed time via Zoom. If you have hardware or software issues, you need to contact Teaching Lab Specialist, Michael Christopher, and coordinate use of equipment provided on campus. Our class sessions may be audio visually recorded for students in the class to refer back and for enrolled students who are unable to attend live. Students who participate with their camera engaged or utilize a profile image are agreeing to have their video or image recorded. If you are unwilling to consent to have your profile or video image recorded, be sure to keep your camera off and do not use a profile image. Likewise, students who un-mute during class and participate orally are agreeing to have their voices recorded. If you are not willing to consent to have your voice recorded during class, you will need to keep your mute button activated and communicate exclusively using the "chat" feature, which allows students to type questions and comments live. The chat will not be recorded or shared. As in all courses, unauthorized recording and unauthorized sharing of recorded materials is prohibited.
Required materials will depend on the proposed projects submitted by students. Students will design projects and set budgets based on the goals of the work. See the Schedule of Courses for any attendant fees related to this course.

Readings will consist of .pdfs and URLs available on the class website.

Be sure to read the University of Florida Policies regarding academic honesty, the honor code, accomodations for students with disabilities, wellness, computer use and acceptable use policy, disruptive behavior, health and safety, email and communications, and late work policy.